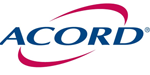 Industry Standards (United States): ACORD (Association for Cooperative Operations Research and Development), founded in 1970, is a global, nonprofit organization serving the insurance and related industries. ACORD facilitates fast, accurate data exchange and more efficient workflows through the development of electronic standards, standardized forms, and tools to support their use. Implementing ACORD Standards has been shown to improve data quality and flow, increase efficiency, and realize billion-dollar savings to the global industry. ACORD members worldwide include hundreds of insurance and reinsurance companies, agents and brokers, software providers, financial services organizations and industry associations. ACORD also presents events, videos, research papers and seminars on current technology and business topics. ACORD maintains offices in New York and London.
For more information: www.ACORD.org
Industry Standards (Canada): CSIO is Canada's industry association of property and casualty insurers, brokers and software providers. CSIO is committed to improving the efficiency and competitive position of the broker distribution channel by overseeing the development, implementation and maintenance of technology standards and solutions. In addition, CSIO continues to maintain and operate the industry-owned EDI mail network service, CSIOnet. CSIO maintains offices in Toronto and Montreal.
For more information: www.csio.com

Industry Technology User Groups: NetVU is an independent, national member organization committed to providing industry advocacy, world-class education and networking to more than 30,000 insurance agencies, carriers, MGAs, compliance organizations, service providers, and over 500,000 users of Vertafore solutions. NetVU members reside in every state and are supported by over 55 local and virtual Chapters led by NetVU members.
For more information: www.NetVU.org